Acid Resistant Aisle Mat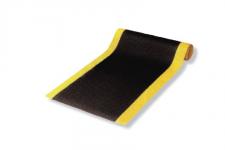 In addition to spill containment, we also provide customers with a complete line of safety equipment and other supplies for the battery room. EnviroGuard provides insulated blankets, electrical aisle mats, and acid resistant aisle mats for your battery room or other mission-critical facilities.
Part Number
BRMAT - priced per linear foot

Features
Exceptional resistance to acids, chemical, and caustic, solutions
Taber Abrasions Tests indicate two times more resistance to surface abrasions than comparable coated products.
Tested surface guards against chips
Sealed with urethane for longevity and durability
Cleans easily with a damp mop.

Regulations in Compliance With
Meets governmental specifications
Meets ANSI/ASTM standards

Specifications
Bright yellow borders emphasize safety in hazardous work areas
3/8" thick closed cell PCV sponge, rounded edges for safety
Beveled edges available on cut lengths
All custom sizes up to 60' in length