Liebert Precision Power Centre 100kVA, P/N PPB100C x 2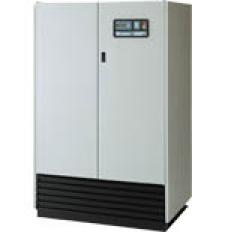 Liebert Precision Power Center (PPC) power conditioning and distribution cabinet offers the benefits of a custom-tailored system, with the convenience and cost savings of a pre-packaged, factory-tested system. Housed in a single, self-contained cabinet, it combines distribution, computer-grade grounding, isolation, and power monitoring to provide the protection your vital computer or communications equipment.
Liebert Precision Power Center is available in 15-225kVA capacity systems for raised floor applications and 15-150 kVA capacities in top-exit models for non-raised floors. The unit offers flexible expansion capabilities to fit growing sites. Multiple input and output selections in both 60Hz and 50Hz models.
Specs
100kVA
600VAC Input, 3 Phase, 3W+G
208VAC Output, 3 Phase, 4W+G
3 x 42 Pole Distribution Panels