Contact Information
Phone: 905.660.1162
Toll free: 888.660.1162
Fax: 905.660.4833
Email: info@powerwaveenergy.com
30 MacIntosh Blvd. Unit 4
Vaughan, Ontario
L4K 4P1
Unique Qualifications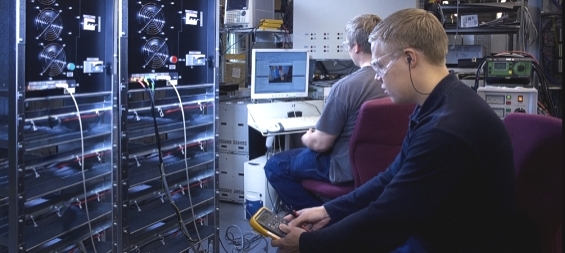 Multivendor Factory Service Training
We have factory trained personnel for the most popular brands of UPS systems; Eaton/ Powerware, Liebert, Tripp Lite, APC/MGE, GE. We repair and provide maintenance agreements for these and many others.
Factory Sales Training
In-depth product knowledge is critical to "right sizing" your UPS. Over-sizing or under-sizing brings consequences. The manufacturers generously share a deep understanding of their systems with us to ensure you get only what you need.
Flooded Battery Expertise
If your system has flooded batteries, they require quarterly maintenance performed by uniquely qualified and trained technicians using specialized test equipment and protective gear. It may shock you to know that some suppliers don't even know this. Don't take chances with your batteries. Properly conducted tests can usually predict failures before you find out the hard way.
250KVA TEST FACILITY 600/ 208 VOLT
This enables us to perform in house testing and troubleshooting on a variety of large and small systems. Most importantly; we can test any system with a significant amount of load. It is especially useful for commissioning tests, heat runs, load tests and particularly for locating intermittent faults that seem to disappear when technicians arrive.
Engineers On Staff
While many suppliers shield their engineers from their customers we encourage you to speak directly with ours. You see we really don't have sales people – they are more like technical support specialists with responsibility for helping customers that aren't yet.